Sing-a-long Book Readings and School Assemblies!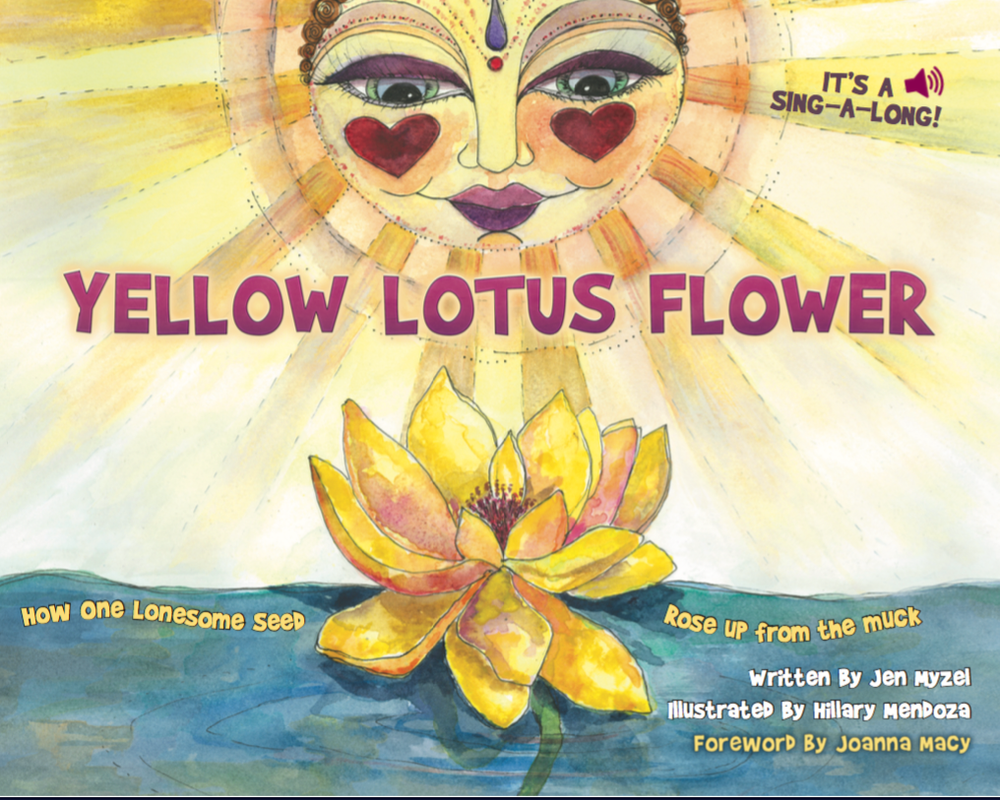 About the Book
Yellow Lotus Flower is a children's sing-a-long book for the soul.  The story follows a lotus seed and a grieving young girl as they learn how to release their tears, break through their shells, and find the courage to rise up from the muck.  Combining Jen Myzel's inspirational song and Hillary Mendoza's majestic watercolor illustrations, Yellow Lotus Flower cracks open the hearts of children and adults alike.  Author and Elder, Joanna Macy, praises it as "a story for our times."
So Here's What I Do...
 There are four key elements to my interactive performance: 
Music 
Movement 
Puppets 
Emotional Intelligence 
I introduce all of the characters of my book through a movement game and slideshow, embodying each main character: Lotus Girl, The Golden Fish, Dragonfly, Mr. Frog, Mrs. Turtle, and The Sun. 
I engage the children in a meaningful conversation, using puppets, about going through hard times in life.  I speak personally, ask them about their experience, and then relate it to the song, discussing how tears and difficult emotions are an important part of our blossoming in life. 
I then teach them the words and dance moves to the chorus of Yellow Lotus Flower, and we read and sing the book together! 
Testimonials
"Jen is entirely engaging, thorough, creative, respectful and wonderful with kids, and she generates an energy very conducive to learning and growing.  Jen is easy to communicate with, listens carefully, considers others' realities, and is an experienced facilitator. " - Charity Kahn, San-Fransisco Children's Musician and Mindfulness Teacher 
"Recently, when feeling a big sadness, my son asked to hear Yellow Lotus Flower to help encourage and inspire him.  This little sing-a-long book reminds kids (and all of us) that suffering is simply part of life.  May it reach the ears and hearts of many!" - Elisa Dumesnil, Marriage and Family Therapist, School Counselor 
"Yellow Lotus Flower is a beautifully lyrical book! Read it as a story or as a sing-a-long, this is a tale of bravery through dark times, and how to make friends with our fears, even when it feels like too much to try." - Andrew Nance, Author of 'Puppy Mind' and 'Mindful Arts in the Classroom'
Bio
Jen Myzel is an elementary school music teacher, author and activist in Oakland, CA.  Since 2014, she has been a close student of author Joanna Macy and The Work that Reconnects, whose teachings of resilience through vulnerability influence her work as a teacher, facilitator, and artist. Her soulful, storytelling music aims to connect people to the deeper purpose of their lives and foster a greater connection to and care for the web of life.  Jen has collaborated with inspiring, family-friendly artists including the Alphabet Rockers, Octopretzel and Empty Hands Music, and has performed at the Bioneers Conference.  Jen is also a song-leader in the Thrive Street Choir and has written and led many songs for direct actions and rituals across the Bay Area, including the widely-sung "Gentle Heart".